AH Engineering Sdn Bhd
2, Jalan Meranti Jaya 9,
Taman Industri Meranti Jaya,
47100 Puchong,
+603-8061 5082
+603-8061 5085
allanhee808@gmail.com

jierenhee.ahe@gmail.com
Kuala Lumpur
AH Engineering Sdn Bhd
Mr. Allan Hee
+6019-338 8712
+603-8061 9300
+603-8061 5082
Indonesia
PT. A H Masindo
Kawasan Pergudangan &
Industri ERAPRIMA Blok M3
Jl. Daan Mogot KM.21
No.1 Tangerang
15122 Indonesia.
+6221-2951 6311
+6221-5572 3512
+62 816 130 8723
sulianto.ahe@gmail.com
allanhee808@gmail.com
HHC - High Speed Servo Die Cutting Machine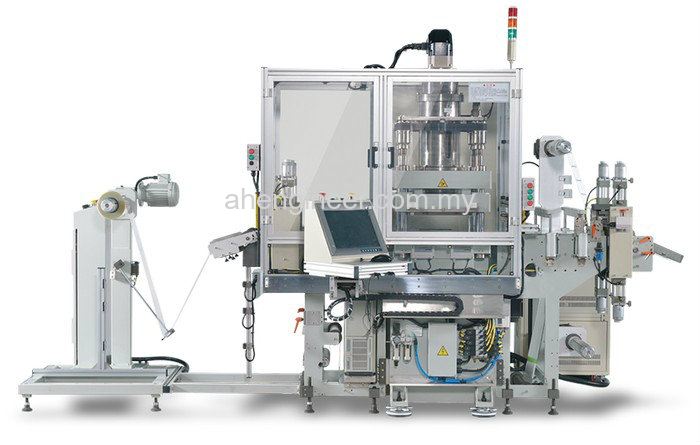 The best choice for Class 1000 clean room, dedicated to do high accuracy, high speed kiss cutting or through cutting with alignment feeding system.
High speed & High accuracy
High speed cutting driven by servo motor.

Low noise, low vibration, high accuracy.

Best choice for clean room.

Tracking adjustment device to accomplish precise alignment.

Automatic mechanical stops device to accomplish accurate cutting depth.

Applicable for various cutting die and special die set.

Extremely strong construction.

Respect to various industries demands, we provide customized options to make complex products to be completed in one run!
Features
HHC-Series servo cutting machine specially designed for die cutting the products with low noise, low vibration, high accuracy and high productivity, cutting force from 10~20 tons. HHC-series is suitable for multi-layer roll form laminated soft material and less than 0.3mm thick rigid metal film materials. According to the product properties, we offer customized feeding system.
Blank cutting,165 cuts/minute based on 3mm cutting stroke and a 10mm feeding distance.

Cutting with alignment on printed registration, 3mm cutting stroke and a 10mm feeding distance do 90 cuts/minute.

Driven by the servomotor with ball screw minimizes the noise and the vibration. Easy to change and adjust the cutting depth. Changing different depth for different material in a short time. The accuracy of depth can reach ±0.01mm.

Without oil contamination of hydraulic system, HHC can be used in Class 1000 clean room directly without any extra appliance.

CCD camera vision with X, Y-axis servomotor tracking device to cut printed material, ensures accuracy ±0.1mm.

Automatic mechanical stops device can avoid human mistakes and make sure the safety of the cutting die and the accuracy of the cutting depth.

With the pneumatic die clamp device, the operator is able to change the cutting die in 5 minutes. It's also easier for change variety of dies such as wooden die, etching die, male & female die.

With heavy duty welding of the machine frame.

HRC 60° hardened and ground steel plate provides kiss cutting and through cutting without edge burs.
Applications
Mobile phone/ Electronic/ LCD

Optical films, plastic films, films.

LCD.

Bonding and sealing gaskets – camera, window LCD, ear piece, power button, etc.

Thermal management pads.

Speaker and microphone filters.

Electronic device housing vents.

Touch screen optically clear adhesive and film.

Circuit board attachment, electrical conduction.

Spacers and cushioning within assembly.

Light blocking, reflection.

Gaskets, spacers & shims.

EMI/RFI shielding.

Membrane switch components.

Shock, vibration & noise dampeners.

Printed Electronics.

LED lighting.

Flex circuit components.

RFID

RFID components.

Access management.

Tracking of goods.

Tracking of persons and animals.

Toll collection and contactless payment.

Machine readable travel documents (E-passport).

Medical

Skin contact tapes and foams.

Pharmaceutical filtration components.

Thermal management materials.

Conductive adhesives.

EMI/RFI shielding.

Electrode pads.

Probe shields/covers.

Protective face shields.

Surgical patches.

Bonding & surface mount adhesives.

Gaskets, spacers & shims.

Shock, vibration, & noise dampeners.

Electrical insulators .

Instrumentation gaskets and seals.

Diagnostic test strip components.

Medical device components.

Medical electronics components.

Cosmeceutical pads.

Labels

Screen Protective films.

Security labels.

Identification labels and traceability labels.

Dashboards.

Membrane switch and panel.

High temperature labels.

Label stickers.

Abrasive

Carpet/Floor tile

Carpet.

Plastic floor tile.

Rubber floor tile.

Foam & Sponge

Foam.

Electronic foam.

Rubber foam.

Insulation foam.

Automotive foam.

Ear plug.

Cosmetics

Cosmeceutical pads.

Cosmetic puff.

Masks.

Packaging

Paper Board/ Corrugated Boards.

Board box.

Plastic box.

Vacuum Package.

Rubber & Plastic

Papers/ Jigsaw puzzle

Jigsaws puzzle.

Papers.

Printed papers.

Textile/ Non-woven

Textile.

Non-woven.

Cotton\Cameras cotton\Cotton filters.

Dust-proof net.

Linings, Shirt Collars.

Brassieres.