AH Engineering Sdn Bhd
2, Jalan Meranti Jaya 9,
Taman Industri Meranti Jaya,
47100 Puchong,
+603-8061 5082
+603-8061 5085
allanhee808@gmail.com

jierenhee.ahe@gmail.com
Kuala Lumpur
AH Engineering Sdn Bhd
Mr. Allan Hee
+6019-338 8712
+603-8061 9300
+603-8061 5082
Indonesia
PT. A H Masindo
Kawasan Pergudangan &
Industri ERAPRIMA Blok M3
Jl. Daan Mogot KM.21
No.1 Tangerang
15122 Indonesia.
+6221-2951 6311
+6221-5572 3512
+62 816 130 8723
sulianto.ahe@gmail.com
allanhee808@gmail.com
Barcode And OCR Quality Automatic Inspection System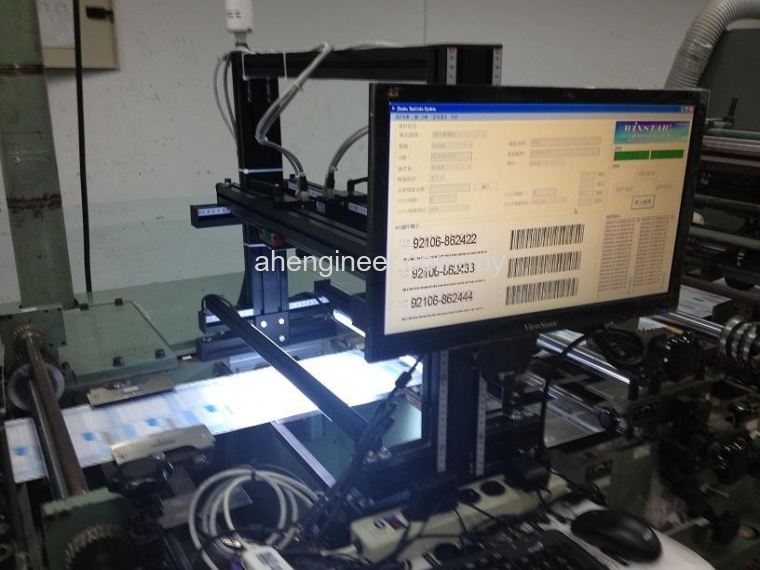 Function description:
1. It can detect 2-module printing barcode and serial number (roll width is X direction)
2. It can detect up to 8 barcodes and serial numbers per second (march is Y direction)
3. Inspection range: 8cm*6cm
4. Lighting mode: Reflective light is adopted
5. Inspection items: Inspect the recognizable rate and serial number of one-dimensional barcode, contrast the barcodes and the serial numbers, record the unrecognized barcodes or the incorrect records inconsistent with the serial numbers, save the incorrect images, and set Alarm.





Barcode Inspection Software: