AH Engineering Sdn Bhd
2, Jalan Meranti Jaya 9,
Taman Industri Meranti Jaya,
47100 Puchong,
+603-8061 5082
+603-8061 5085
allanhee808@gmail.com

jierenhee.ahe@gmail.com
Kuala Lumpur
AH Engineering Sdn Bhd
Mr. Allan Hee
+6019-338 8712
+603-8061 9300
+603-8061 5082
Indonesia
PT. A H Masindo
Kawasan Pergudangan &
Industri ERAPRIMA Blok M3
Jl. Daan Mogot KM.21
No.1 Tangerang
15122 Indonesia.
+6221-2951 6311
+6221-5572 3512
+62 816 130 8723
sulianto.ahe@gmail.com
allanhee808@gmail.com
FASP - 6010 - Compact Thermoforming Machine
THERMO FORMING MACHINE --- Plastic Vacuum Forming Machines ---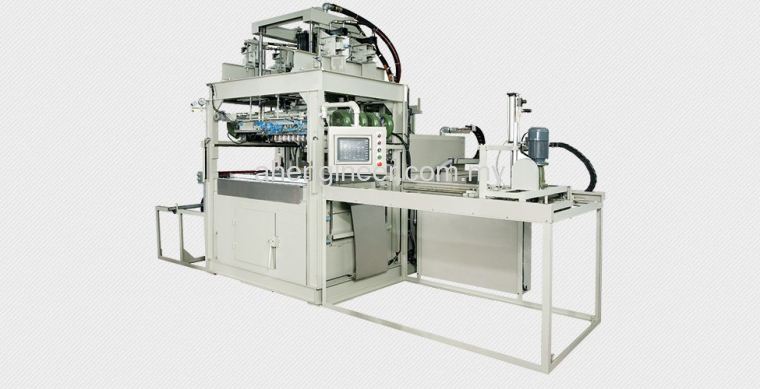 Compact Thermoforming Machine (Pressure Forming)
FASP - 6010 / 7012 / 7014 / 8012
FASP series is a NEW CONCEPT DESIGN thermoforming machine with pressure forming design and reciprocating heater structure.

The concept is to provide user to own a machine with less cost but strong capability to form high quality products.
Features
FASP series owns both pressure forming and vacuum forming function.
Pressure forming process could reduce the temperature during process and keep better forming uniformity.
The heater adopts tubular heating elements with SCR controlling and setting memories for easier operation.The ceramic element is also optional for adoption.
The upper mold, lower mold and forming area are able to be electronically adjusted easily.
Cooling system adopts both fan and water sprayer systems for efficient cooling process

Enclosed type structure :




To improve the uniformity during forming, enclosed type structure and air conditioner design are able to solve the problem of plastic sheet sunk.
Applications
Plastic trays,blisters, food containers, Industry packing products and disposable tableware.
Many well-known electronic components vendors adopt our machine for electricity trays production.
Materials
PVC, PP,HIPS, PET, ABS, OPS,PE,PSP etc.,thermoplastic material
Good performance
The performance of pressure forming is pretty good and better than vacuum forming, it is a sophisticated version of the vacuum forming process utilizing air pressure as a forming aid to increase the detail on the mold side, even same as injection molding. For small quantity inquiries,you can spend much less cost but get the product like injection molding process.
Low cost molds
No need to adopt expensive pressure forming molds, traditional vacuum forming mold is workable!Only cost you USD 3,000 for molds.It really saves your cost, comparing with expensive mold other machines adopt . You do not need to choose those expensive molds.
Specifications
| Model | Forming Area | Forming Depth | Film Width | Electric Heater | Equipment | Controllor |
| --- | --- | --- | --- | --- | --- | --- |
| FASP-6012 | 570*1200mm | 150mm | 500~600mm | 30KW | Air Compressor 7.5HP | PLC & Touchscreen |
| FASP-7012 | 670*1200mm | 150mm | 500~700mm | 34KW | Air Compressor 7.5HP | PLC & Touchscreen |
| FASP-7014 | 670*1400mm | 150mm | 500~700mm | 38KW | Air Compressor 7.5HP | PLC & Touchscreen |