AH Engineering Sdn Bhd
2, Jalan Meranti Jaya 9,
Taman Industri Meranti Jaya,
47100 Puchong,
+603-8061 5082
+603-8061 5085
allanhee808@gmail.com

jierenhee.ahe@gmail.com
Kuala Lumpur
AH Engineering Sdn Bhd
Mr. Allan Hee
+6019-338 8712
+603-8061 9300
+603-8061 5082
Indonesia
PT. A H Masindo
Kawasan Pergudangan &
Industri ERAPRIMA Blok M3
Jl. Daan Mogot KM.21
No.1 Tangerang
15122 Indonesia.
+6221-2951 6311
+6221-5572 3512
+62 816 130 8723
sulianto.ahe@gmail.com
allanhee808@gmail.com
CVF-7007 - Pressure Vacuum Forming Machine
THERMO FORMING MACHINE --- Plastic Vacuum Forming Machines ---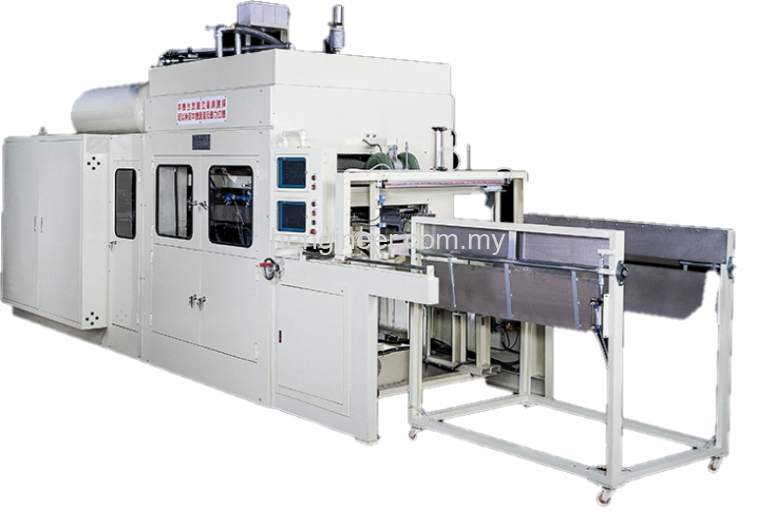 Pressure Vacuum Forming Machine (new sealing type)
CVF-7007/7012/7014
Plastic containers such as food box,blister,trays or industry containers like anti-static trays.
0.15mm to 2.0mm
PP,PET,PS,PVC,OPS,ABS,PC,PLA...etc

Why CVF-Series
As most pressure forming machines in the market are requested to adopt high price thermoforming molds, however the market varies from minutes to minute, a mold maybe could be abandoned in short time thus user might be unable to recover the investment.
CVF series is the one aimed to solve this problem.
Now you can enjoy its high performance but also with low cost mold solutions together.
Less price vacuum forming mold is acceptable by CVF series. User can save much mold cost comparing with only thermoforming molds adoption. (The price of vacuum forming mold is only around USD 2,000)
Especially suitable for users who wants to upgrade from their original vacuum forming process.
Previous molds are able to share with CVF machine without any additional cost.
Extreme Performance and Capability
With 3kg/cm2 high air pressure force, deeper products are easily formed by CVF-series.
With lower heating temperature, also the surface of final product is more uniform.
CVF series are capable with both pressure forming and vacuum forming functions . Vacuum forming function will play the role of assistant after pressure forming process to enhance the detail.
Continuous Type Structure
Continuous type structure is designed to run heating and forming process at different area. Also the plastic sheet is with chain driven by servo motor, with this structure, the processing speed is much faster to raise the capacity.
Forming Station
The driven system of forming station is composed of hydraulic cylinders system and 4 strong tie bars. Hydraulic system provides powerful molding resource and 4 tie bars structure is the foundations of steady and accurate moving
Upper and Lower Mold
The height adjustment of upper and lower mold system is electrical on touchscreen.
Also it is with cooling water plate installed to cool the mold,
thus both vacuum forming mold and thermoforming mold are acceptable by CVF-series.
Meanwhile, dual blowing directions function is also an optional equipment especially for some products which are more suitable by bottom-up forming direction.
Heating System
The heating system is with both upper heater and lower heater. Each heater is composed of 2 sections to increase the efficiency.
In order to provide further precise heater controlling, It equips ceramic heating elements, SCR and PLC through touchcreen.The temperature of each ceramic element can be adjusted independently.
Features
The ceramic heater heats up quickly and is energy efficient. The heater is controlled by PLC and PID through a man-machine interface. Its 30 sets of memory make it easy to adjust.
The film width is adjustable. The chains can be adjusted automatically or manually.
The cold-water mould is adjusted electrically, which can be controlled easily and saves time.
The upper mould is also adjusted electrically and easier to be controlled than traditional moulds.
The motor pushes the rubber roller to unload and feed.
The feeding transmission chains is Controlled by a frequency converter with a feedback wire. The length (in millimeters) can be adjusted through the man-machine interface.
The rodless cylinder transmission is adopted in order to cut films accurately.
If the film is dripping when it is overheated, the sensor will sense it and the electrical heater will move backward automatically.
This machine fits traditional vacuum forming moulds (including pressure forming moulds). It helps reduce time to develop a new mould, and it is Cost Saving.
Chains with stainless clips are used on feeding, so that the leather on products is smooth and easier for processing and finishing.
This machine is suitable for thermoplastic materials such as PVC, PS, PP, PET, ABS, OPS, etc
The temperature and motor control is achieved through a man-machine interface, which is easy and efficient to operate. The interface also has 30 sets of memory.
The feeding chains have stainless clips, which make the shaped products smoother.
The upper moulds and upper clamp frames are separated on this vacuum forming machine. The upper moulds can be positioned in advance or after air-pressure and air-blow. The depth of the upper moulds can be adjusted electrically without turning off the machine.
Specifications
| Model | Forming Area | Film Width | Forming Depth | Electric Heater | Equipment |
| --- | --- | --- | --- | --- | --- |
| CVF-7007 | 470~670 x 700mm | 500~700mm | 140mm | 65kw | 20HP Hydraulic Press |
| CVF-7012 | 470~670 x 1200mm | 500~700mm | 140mm | 120kw | 20HP Hydraulic Press |
| CVF-7014 | 470~670 x 1400mm | 500~700mm | 140mm | 130kw | 20HP Hydraulic Press |
"łWe reserve the right to modify the specifications, if there are subjected to change, without prior notice.
"łMachine made available on request.