AH Engineering Sdn Bhd
2, Jalan Meranti Jaya 9,
Taman Industri Meranti Jaya,
47100 Puchong,
+603-8061 5082
+603-8061 5085
allanhee808@gmail.com

jierenhee.ahe@gmail.com
Kuala Lumpur
AH Engineering Sdn Bhd
Mr. Allan Hee
+6019-338 8712
+603-8061 9300
+603-8061 5082
Indonesia
PT. A H Masindo
Kawasan Pergudangan &
Industri ERAPRIMA Blok M3
Jl. Daan Mogot KM.21
No.1 Tangerang
15122 Indonesia.
+6221-2951 6311
+6221-5572 3512
+62 816 130 8723
sulianto.ahe@gmail.com
allanhee808@gmail.com
GCM-1S/2S/3S GATHERING and COLLATING of SHEET MATERIALS
CARD PRODUCTION MACHINE --- GATHERING and COLLATING of SHEET MATERIALS ---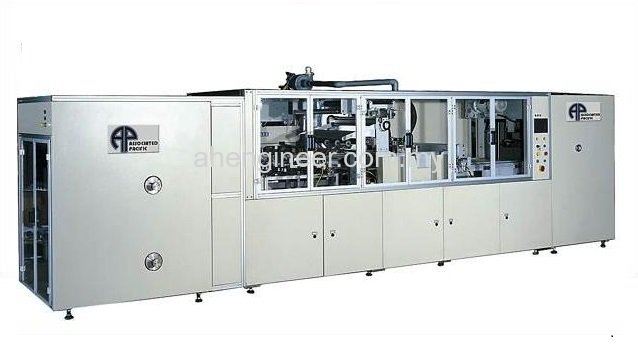 Features
The fully automatic plastic card gathering and collating system, GCM, has been developed in response to the demand for high speed automatic collation of two overlay foils in web and one core sheet to prepare "card sheet sets" for the card lamination process. The GCM combines two layers of overlay material fed from rolls with a pre-printed core sheet to form three layer card sheet sets.
Advantages
High Speed: 1,200 sheets per hour.
Touch screen controlled for easy program recalls, changes, and troubleshooting.
1,000 sheet capacity auto-loader that is hand-trolley accessible.
Optional user supplied anti-static sheet and overlay cleaners.
Optical sensor controlled overlay accuracy. Additional sensors for magnetic tape overlay.
Eight point ultra-sonic spot welding. Ultra-sonic welding allows material of varying thickness to be welded without additional mechanical adjustments.

Range of Applications
For collating one or two overlay foils with a single core material.
We also provide split core GCM-2S and 3 core GCM-3S collation machine with both one or two overlay foils.
Overlay foil can vary between 40 to 400 µm thick, with or without magnetic tape. Core material can be PVC or PET, or any material suitable for plastic card production process up to 750mm x 750mm.