AH Engineering Sdn Bhd
2, Jalan Meranti Jaya 9,
Taman Industri Meranti Jaya,
47100 Puchong,
+603-8061 5082
+603-8061 5085
allanhee808@gmail.com

jierenhee.ahe@gmail.com
Kuala Lumpur
AH Engineering Sdn Bhd
Mr. Allan Hee
+6019-338 8712
+603-8061 9300
+603-8061 5082
Indonesia
PT. A H Masindo
Kawasan Pergudangan &
Industri ERAPRIMA Blok M3
Jl. Daan Mogot KM.21
No.1 Tangerang
15122 Indonesia.
+6221-2951 6311
+6221-5572 3512
+62 816 130 8723
sulianto.ahe@gmail.com
allanhee808@gmail.com
CAR-5HC High Speed Plastic Card Punching , Sorting & Stacking Machine
CARD PRODUCTION MACHINE --- CARD PUNCH and STACKING ---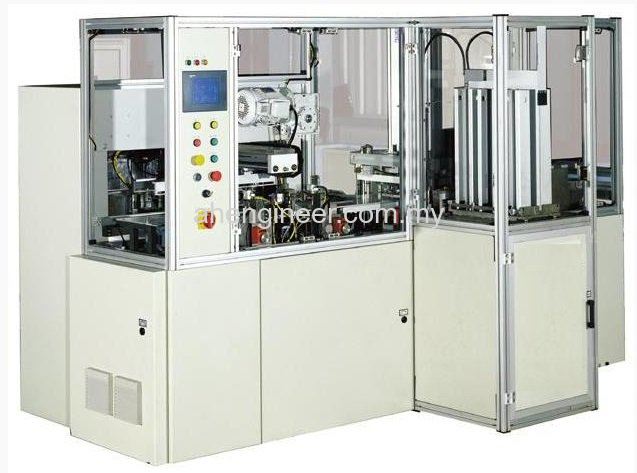 High Speed Plastic Card Punching , Sorting & Stacking Machine
Features
The CAR-5HC is designed specifically to cut credit card size cards from plastic or paper sheets, generally to cut any kind of plastic or paper card. The machine's sensor system traces registration marks printed on the uncut sheets, and it works not according to the edge of the sheet method. This registration mark tracking system is more precise, and where precision is not necessary, i.e. cutting unprinted sheets, the CAR-5HC can use the older, edge of sheet method for faster throughput.
Advantages
A 20% increase in production over our CAR-5N.
The auto sheet feeder holds approximately 1000 0.8 mm thick sheets.
This machine will have material savings, fast speed, and extremely accurate cutting edges.
A combination of high volume production, accurate die cutting, and high quality card edges.
Inboard and outboard ball screw servo drive gripper with position accuracy of ± 0.1 mm.
Optical sensors with registration mark tracking system ensure a cut to print accuracy of ± 0.1 mm.
The shear type male and female die ensures clean cut edges.
Cards are automatically collected and stacked into two interchangable magazine stations. There is a seperate station for each row. Each magazine can hold up to 450 cards (0.8 mm thick cards).
Scrap web is automatically discharged.
An air floatation system protects card from scratching during the feeding process.
The touch screen moniter faciliates easy data entry.
Range of Applications
Auto feeding and cutting of plastic cards from sheets of stacked and printed material. Available for any commercial sheet format.
Our product's sample
| | | | |
| --- | --- | --- | --- |
| credit card | playing card | member card | hang card |