AH Engineering Sdn Bhd
2, Jalan Meranti Jaya 9,
Taman Industri Meranti Jaya,
47100 Puchong,
+603-8061 5082
+603-8061 5085
allanhee808@gmail.com

jierenhee.ahe@gmail.com
Kuala Lumpur
AH Engineering Sdn Bhd
Mr. Allan Hee
+6019-338 8712
+603-8061 9300
+603-8061 5082
Indonesia
PT. A H Masindo
Kawasan Pergudangan &
Industri ERAPRIMA Blok M3
Jl. Daan Mogot KM.21
No.1 Tangerang
15122 Indonesia.
+6221-2951 6311
+6221-5572 3512
+62 816 130 8723
sulianto.ahe@gmail.com
allanhee808@gmail.com
HDB500 High-speed Ultrasonic Wrapping Machine
CARD PRODUCTION MACHINE --- OTHERS ---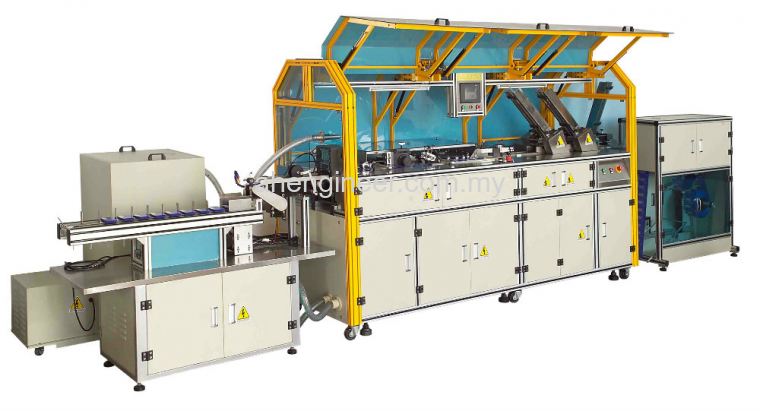 Designed for card packing by anti-counterfeit poly film, good for card protection and distribution.
► Productivity: 500 pcs/min for standard cards.
► Power: ¡«220V, 50 Hz, 5 KW
► Air supply: dry, free of matter, 5¡«8kgf/cm2£¬1m3/h
► Double grade ultrasonic sealing mode. Continuous high-speed card feeding and sealing with exact, reliable card positioning and elegant, tight card packing effect.
► Convenient touch screen operation interfaces in English/Chinese.
► Various personalized sealing patterns are available to secure safety against piracy.
► Packing modes for both single/double cards and card + leaflet. Packed cards can be separated to single cards or card chain in any preset card stack.
► Feeder is suitable for any cards or paper leaflets of thickness 0.02¡«3mm.
► Feeding thickness inspector guarantees no accidental twin cards are packed.
► Sealing edges of zigzag, letters or personalized designs are possible.
► Pack positioning device is optional to coincide the film logo with the card.
► Card serial number inspector is optional to secure correct card numbers and set up data records.