AH Engineering Sdn Bhd
2, Jalan Meranti Jaya 9,
Taman Industri Meranti Jaya,
47100 Puchong,
+603-8061 5082
+603-8061 5085
allanhee808@gmail.com

jierenhee.ahe@gmail.com
Kuala Lumpur
AH Engineering Sdn Bhd
Mr. Allan Hee
+6019-338 8712
+603-8061 9300
+603-8061 5082
Indonesia
PT. A H Masindo
Kawasan Pergudangan &
Industri ERAPRIMA Blok M3
Jl. Daan Mogot KM.21
No.1 Tangerang
15122 Indonesia.
+6221-2951 6311
+6221-5572 3512
+62 816 130 8723
sulianto.ahe@gmail.com
allanhee808@gmail.com
DITECH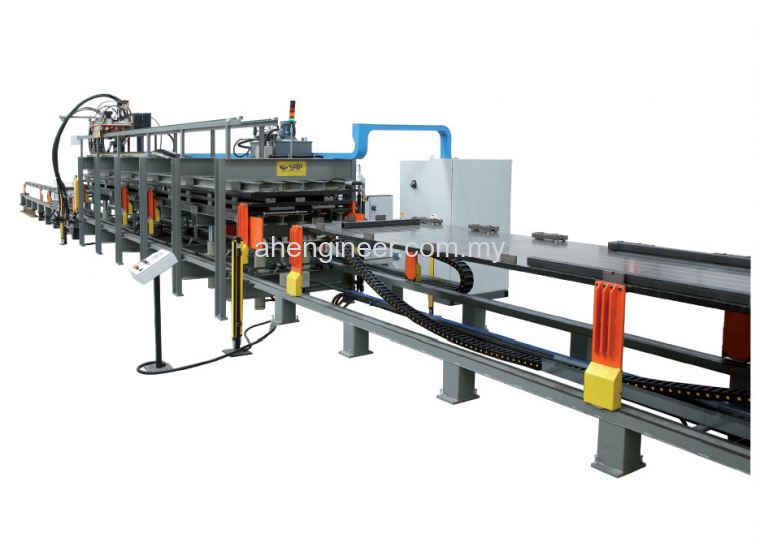 DITECH: SAIP discontinuous lines for sandwich panel production.
The 'discontinuous' process is used for rigid surfaces panels production, when a special design and limited production volumes are required.
In the discontinuous panels production process the polyurethane mixture is poured or injected into the cavity between the two rigid facings within the platens of a standing press by means of a two components low or high pressure foam dispensing machine which is either especially designed according to the used foaming method or supplied as standard equipment . Afterwards the panel is unloaded, manually or automatically, stacked and prepared for the phases of packaging, handling and storage.
APPLICATIONS
CONSTRUCTION
Panels for main doors
panels for sectional doors
Roof insulation panels
Wall insulation panels
REFRIGERATION
Refrigerator cells panels