AH Engineering Sdn Bhd
2, Jalan Meranti Jaya 9,
Taman Industri Meranti Jaya,
47100 Puchong,
+603-8061 5082
+603-8061 5085
allanhee808@gmail.com

jierenhee.ahe@gmail.com
Kuala Lumpur
AH Engineering Sdn Bhd
Mr. Allan Hee
+6019-338 8712
+603-8061 9300
+603-8061 5082
Indonesia
PT. A H Masindo
Kawasan Pergudangan &
Industri ERAPRIMA Blok M3
Jl. Daan Mogot KM.21
No.1 Tangerang
15122 Indonesia.
+6221-2951 6311
+6221-5572 3512
+62 816 130 8723
sulianto.ahe@gmail.com
allanhee808@gmail.com
ABC-25/30/40/60/100/150 Auto Balance Hydraulic Full Head Cutting Machine
SYSCO CUTTING SYSTEM --- ABC ---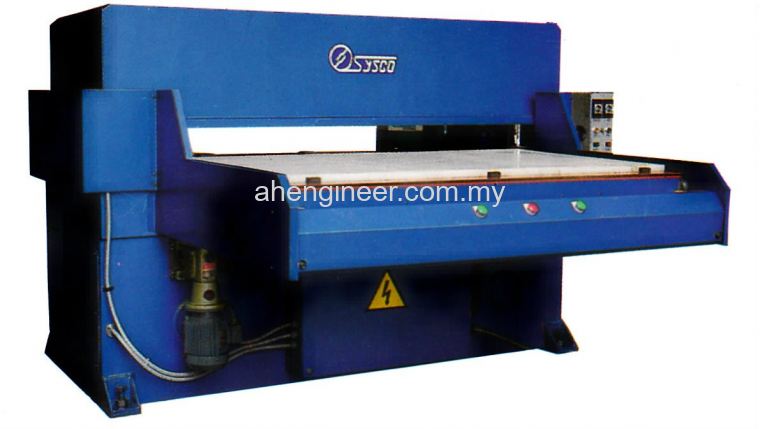 SYSCO ABC 40
Model : ABC-25/ABC-30/ABC-40/ABC-60/ABC-100/ABC-150 Auto Balance Hydraulic Full Head Cutting Machine
Cutting force 25-150 tons
Manual or motorized , single or double sliding table , Cutting pad can be mounted on table or under head. Suitable for sheet material cutting with blade upward or downward cutting die.
Advantages
- Four column down-stroke prees with full head. Open daylight adjust by timer. Low preesure setting for point adjustment to set the daylight to die height via knurled handle. Cutting force adjust by timer. All the process within one minute.


- Fly wheel system with low power moter to achieve high tonnage cutting force with low eletric power consumption.
- Two differential cylinders are vertically installed in the base. The stroke movement are transmitted to the columns and beam via a double mechanical balance mechanism. this mechanism ensures plane-parallel movement of the beam even under off-center loads to avoid transformation of the die shape and guarantee long year precision of the machine.
- Full head quickly go down untill touching die and material , the down-stroke automatically change to slow speed to minimize the side difference between toppest layer and lowest layer material for accurate cut piece.
- Automatic central lubrication system continuously lubricates all the main machine bush and bearing.
- Attach with optional feeding system to achieve automatic die cutting plants for all the specific industries.
- Low noise device ensures low noise & low shock cutting of the machine.
Specification
Model

ABC -25

ABC -30

ABC -40

ABC -60

ABC -100

ABC -150

Cutting fforce

Open daylight

Down speed

Up speed

Machine bed (D x W)

700x1600mm
or more

900x1600mm
or more

900x1600mm
or more

900x1600mm
or more

Motor

Dimension ( W x D x H )

N .W .
* Dimension is for machine with single slide table.
* Spectial cutting area , stroke and cutting force are avaliable upon request.
* CE safety version machine is avaliable .