AH Engineering Sdn Bhd
2, Jalan Meranti Jaya 9,
Taman Industri Meranti Jaya,
47100 Puchong,
+603-8061 5082
+603-8061 5085
allanhee808@gmail.com

jierenhee.ahe@gmail.com
Kuala Lumpur
AH Engineering Sdn Bhd
Mr. Allan Hee
+6019-338 8712
+603-8061 9300
+603-8061 5082
Indonesia
PT. A H Masindo
Kawasan Pergudangan &
Industri ERAPRIMA Blok M3
Jl. Daan Mogot KM.21
No.1 Tangerang
15122 Indonesia.
+6221-2951 6311
+6221-5572 3512
+62 816 130 8723
sulianto.ahe@gmail.com
allanhee808@gmail.com
ABC-100 Automatic Full Head Die-Cutting Press and Feeding Systems
SYSCO CUTTING SYSTEM --- ABC ---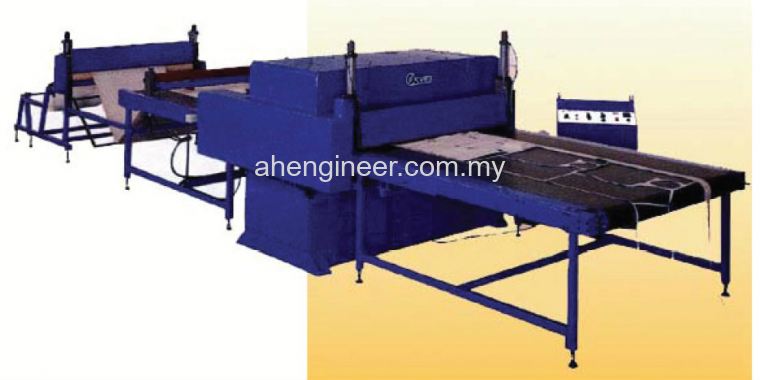 ABC-100 Automatic Full Head Die-Cutting Press and Feeding Systems


Cutting force 100 tons. Clamping beam feeding system . Horizontal 10 roller material stand . Outboard conveyer with gravity pinch roll. Suitable for roll material.



Range of application
| | |
| --- | --- |
| | Die cutting application of a width range of material such as textiles, plastics. rubber ,foam , composites , paper , paperboard ,wood , leather,cork,felt and items like automobile upholstery , gaskets , filters , abrasives , shoe components , jigsaw puzzles , pingpong paddles , envelopes , medical supplies , packagings , shirt collars , aponges , caps , linings , balls , stickers , plastic floor tiles , luggages , umbella , floor mats , carpets and toys etc. |
Advantages
- Four column down - stroke press with full head. Open daylight adjusts by timer. Low pressure setting for die height adjustment is accomplished with a knurled handle . Cutting force adjust by timer. The entire set up process is completeed in less than 60 seconds.
- Fly wheel system low power motor achieves high tonnage cutting force with low eletric power consumption.
- Two differential cylinders are vertically installed in the base. The stroke movements are transmited to the columns and beam via a double mechanical balancing mechanism. This mechnism ensures the beam stay parallel to the bed even under off - center loads. Dies keep their shape , pads last longer , cut parts are accurate and press life will be longer.
- Full head quickly moves downward until the die touches the material, the down - stroke automatically changes to slow speed to minimize the size difference between the upper layer and the lowest layer of material for accurate cut pieces.
- Automatic central lubrication system continuously lubricates all the main machine bushings and bearings.

- Attech with optional feeding system to achieve automatic die cutting plans for all the specific industries .


Specification
Model

Force

Open daylight

Down speed

Up speed

Machine bed
( dxw )

500x1600
mm

600x1600
mm

700x1600
mm or more

900x1600
mm or more

900x1600
mm or more

900x1600
mm or more

Motor

Dimensions

N.W.
- Dimensions and net weight for machine only without feeder.
- Special cutting area, stroke and cutting force are available upon request.
- CE safty version machine is avaliable.