AH Engineering Sdn Bhd
2, Jalan Meranti Jaya 9,
Taman Industri Meranti Jaya,
47100 Puchong,
+603-8061 5082
+603-8061 5085
allanhee808@gmail.com

jierenhee.ahe@gmail.com
Kuala Lumpur
AH Engineering Sdn Bhd
Mr. Allan Hee
+6019-338 8712
+603-8061 9300
+603-8061 5082
Indonesia
PT. A H Masindo
Kawasan Pergudangan &
Industri ERAPRIMA Blok M3
Jl. Daan Mogot KM.21
No.1 Tangerang
15122 Indonesia.
+6221-2951 6311
+6221-5572 3512
+62 816 130 8723
sulianto.ahe@gmail.com
allanhee808@gmail.com
CPC-NA25 Cutting Machine with Computer Numerical COntrol Die-cuttting system for cutting of Envelope
SYSCO CUTTING SYSTEM --- CPC ---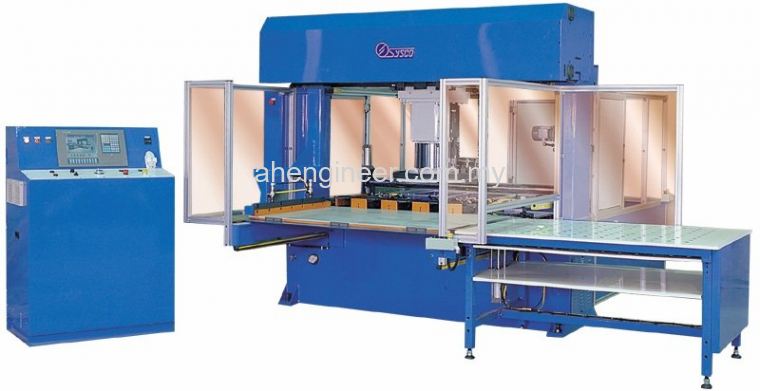 Model CPC-NA25


Range of application
- Mass production cutting of every kind of printed or non-printed sheet type products
- Mass production cutting of every kind of envelope.

Advantages
- Industrial personal computer and user friendly Window NT operating system.
- Programming capability for irregular printed and non-printed cutting.
- Three axes servo motor position system ensures position accuracy 0.2mm
- Working capacity up to 1.4million blanks per 8 hours with maximum material stack thickness
up to 65mm
- More than 1000 program memory for irregular pre-printed and non-printed envelope cutting, each program with 100
preset cutting positions available.
- Quick and easy programming and die changing (within 5 minutes)
- Dryrun without cutting force before actural cutting can help avoid operating errors.
- Maximum blank size 500 X 600mm for paper sheet size up to 950mm X 1450mm
- Optional paper sheet size up to 1020 X 1450mm
- Die lubrication for clean cuts and longer die life
- Flattening roller eliminates air pockets to ensure cut to print accuracy
- Pneumatic head center ejector holds stack material secure and eliminates air pockets to ensure maximum cutting size
accuracy for stack material.
- Safety sensor to avoid cutting on paper clamp device.
- Ball- screw technology to move the cutting head and table along the X and Y axes, respectively, and to the most
accurate possible positioning of the cutting head.
- Approved standard safety guards.
- Optional auto feeder
- Optional adjustable two-step cutting speed for eliminating air pockets and ensuring maximum cutting accuracy
- Optional magnetic die plate for quick and easy die changing.
| | |
| --- | --- |
| Model | CPC-NA25 |
| Motor | 3 HP |
| Cutting stroke | 150mm |
| Open daylight | 279~81mm |
| Die height range | 86~100mm |
| Head | 550x650mm |
| Max. blank size | 500x600mm |
| Cutting force | 25 tons |
| Dimension | 4670Wx4150Dx2160H mm |
| Net weight | 3500 kgs |
End Prdocuts