AH Engineering Sdn Bhd
2, Jalan Meranti Jaya 9,
Taman Industri Meranti Jaya,
47100 Puchong,
+603-8061 5082
+603-8061 5085
allanhee808@gmail.com

jierenhee.ahe@gmail.com
Kuala Lumpur
AH Engineering Sdn Bhd
Mr. Allan Hee
+6019-338 8712
+603-8061 9300
+603-8061 5082
Indonesia
PT. A H Masindo
Kawasan Pergudangan &
Industri ERAPRIMA Blok M3
Jl. Daan Mogot KM.21
No.1 Tangerang
15122 Indonesia.
+6221-2951 6311
+6221-5572 3512
+62 816 130 8723
sulianto.ahe@gmail.com
allanhee808@gmail.com
SGC-1/GC-1
SYSCO CUTTING SYSTEM --- SGC ---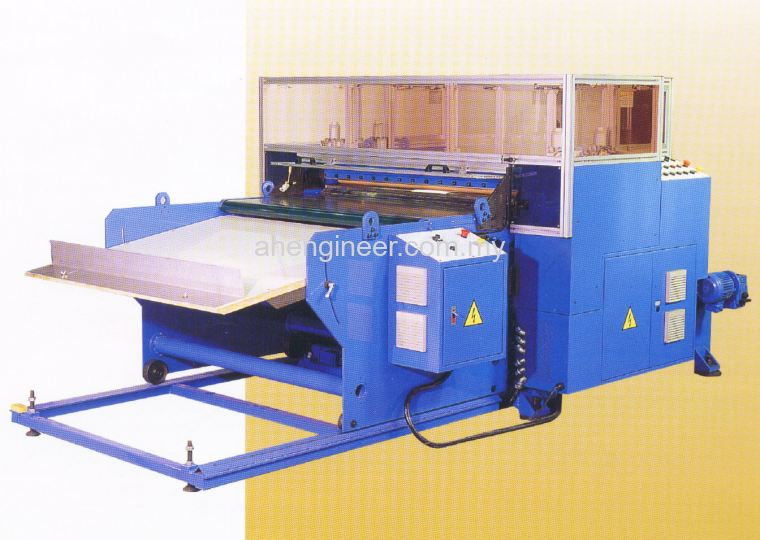 Soft Roll Material Slitting & Guillotine Cutting Machine
Model: SGC-1/GC-1

Range of application
The SGC- 1 can cut application of soft plastic roll material and foam material with material thickness up to 2mm and quickly
and preciesely transform soft rolls of material into rectangular cut parts. The machine is suitable for a variety of materials,
including P.V.C, paper , foam and rubber.

Advantages
- Do slitting and guillotine cutting application at the same time to simplify productionprocess and therefore save labor cost and
handing coast.
- Servo motor control feeding ensure feeding tolerance within 0.2mm.
- 10 steps feeding speed adjustment from 5 meters per minute to 50 meters per minutes to meet different specification on materials.
- Maximum guillotine cutting length up to 1 meters per cut.
- Guillotine cutting application of special material is available upon request.
- Motorized central unwinding material stand.

Options
- Air slitting knife device.
- Material rewinding stand with magnetic Clutch tension control and air shaft.
- Jumbo roll motorized material stand. Anti static device.
- Servo motor driven cut- parts pincer synchronized taking off device and auto lifting stacking stale, 2 meter long.
- Available for material width are 1400mm, 1600mm, and 2000mm upon request.