AH Engineering Sdn Bhd
2, Jalan Meranti Jaya 9,
Taman Industri Meranti Jaya,
47100 Puchong,
+603-8061 5082
+603-8061 5085
allanhee808@gmail.com

jierenhee.ahe@gmail.com
Kuala Lumpur
AH Engineering Sdn Bhd
Mr. Allan Hee
+6019-338 8712
+603-8061 9300
+603-8061 5082
Indonesia
PT. A H Masindo
Kawasan Pergudangan &
Industri ERAPRIMA Blok M3
Jl. Daan Mogot KM.21
No.1 Tangerang
15122 Indonesia.
+6221-2951 6311
+6221-5572 3512
+62 816 130 8723
sulianto.ahe@gmail.com
allanhee808@gmail.com
MTL-700N Overlay Roll Material Magnectic Tape Laying Machine
SYSCO CUTTING SYSTEM --- MTL ---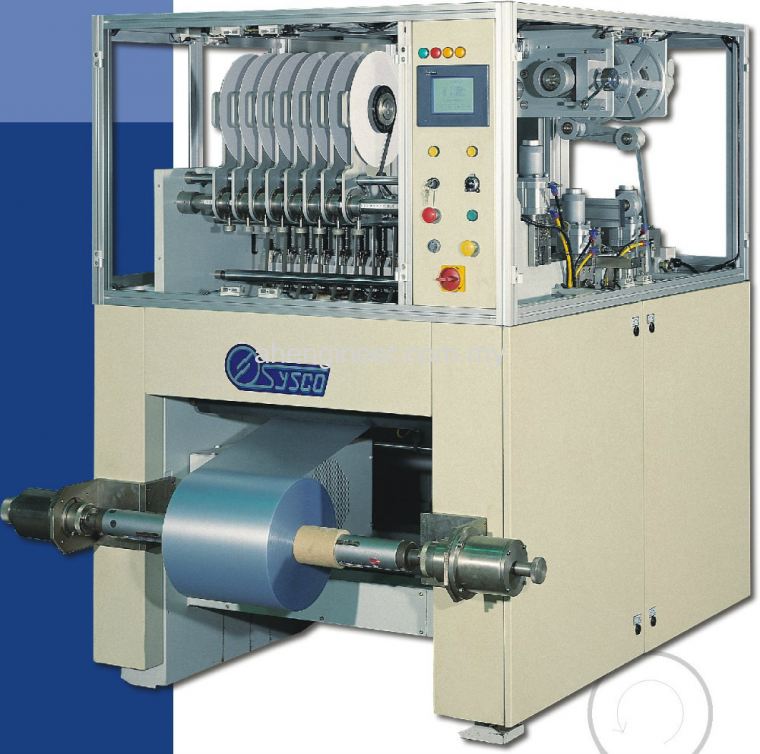 MTL-700N Overlay Roll Material Magnectic Tape Laying Machine
Machine for the laying of the magnetic stripe
Using the pressure and temperature, the stripes are applied to the overlay or the sheet, while the protective film is removed and wound on a support. The machine can be equipped with a guillotine for cutting formats, or (and) a reel for the overlay after removing the piste. The machine can also be equipped with two systems to work on leaves and on roll.

Options:

• Roller and system for chauffesupplémentaires different bandwidth.
• Alignment and edge guide material controlled by servomotor.
• MTL-700 M: manual loading of sheets.
• MTL-700 NSA: automatic loading of sheets.

Additional devices can be added to the machines to further increase the ease of adjustment and work:

• Calibration position supports magnetic stripe: when changing coils, the settings are stored and do not require recalibration.
• Cutting the sheet with lateral control of the distance from the edge to the track.
• Dust extraction on the output rollers.
Product characteristics :
Material type : Pvc materail, (Rolt to sheet, Roll to roll)

Feeding system : none.

Materail width : 250-700mm

Materail thickness: 0.04-0.2mm.

Sheet length: 250-900mm.

Overlay diameter : 600mm.

Number of tape : 8 (option to 12).

Net weight: 4.500kg.

Product example : PVC film.
Technical data sheet
• Standard magnetic stripe width: 12.7 mm or 6.5 mm.
• Width overlay with or without hot melt: from 330 to 700 mm.
• Overlay thickness: 0.03 to 0.8 mm.
• Lateral alignment of tracks: ± 0.15 mm.
• Removing the roller tracks by independent heating up to 220 ° C.
• Adjustable speed of laying tracks up to 10 m / min.
• Precision cutting length: ± 0.3 mm.
• Unwinder roll overlays on mandrel.
• Side guides adjustable micrometer.
• Winding device holder with the magnetic track in the event detection cell decasse.
• Mounting Tape with voltage control, and adjustable positioning guides the rollers.
• Positioning + or - 0.1 mm servo motor 0,75 KW.
• Cleaning system with a double face support roller on the output.
• Storage formats tracked on a table with two anti-static set before laguillotine and before the table or rewound.
• Touch screen control: friendly, multi-lingual (French and / or English), setting and trimming various counts.
• Use of electrical, hydraulic and pneumatic standardized.
• Protective covers for strict compliance with CE.