AH Engineering Sdn Bhd
2, Jalan Meranti Jaya 9,
Taman Industri Meranti Jaya,
47100 Puchong,
+603-8061 5082
+603-8061 5085
allanhee808@gmail.com

jierenhee.ahe@gmail.com
Kuala Lumpur
AH Engineering Sdn Bhd
Mr. Allan Hee
+6019-338 8712
+603-8061 9300
+603-8061 5082
Indonesia
PT. A H Masindo
Kawasan Pergudangan &
Industri ERAPRIMA Blok M3
Jl. Daan Mogot KM.21
No.1 Tangerang
15122 Indonesia.
+6221-2951 6311
+6221-5572 3512
+62 816 130 8723
sulianto.ahe@gmail.com
allanhee808@gmail.com
PLA, PET Plastic Extrusion Machine
THERMO FORMING MACHINE --- Plastic Extrusion Machine ---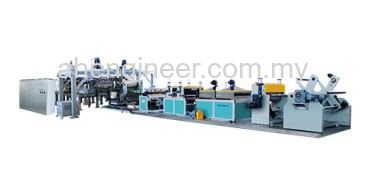 This machine is suitable for producing PLA, PET and other fully degradable materials and plastic sheets. Mainly used in environmentally friendly food packaging, gift box packaging bags, clothing bags, lamination, mulch, shopping bags, etc. The whole machine adopts PLC control to realize automatic control of parameter setting, data operation and feedback, alarm and other functions.